Sometimes I notice when my customers are cronic overloaders, the front cross member will bend to the left and right of the suspension rod ball joints. this will cause the tub to ride to low and the tub support, particularly under the motor where the shipping brace was, will rub against the bottom panel. once you get the bottom off, fill it with water and let it agitate. look to see if
the bottom of the support is rubbing on the bottom panel.


this is where the scraping will come from:



top brace where the bends happen... it happened to this one.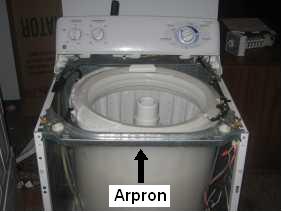 i found this somewhere on the internet:
http://www.appliance-repair-it.com/washer-repair.html

Sagging Apron

In this section of this GE HydroWave washer repair guide I will discuss the apron. On GE HydroWave washers sometimes the apron will sag. This will cause the bottom of the motor bracket to rub the bottom of the washer causing it to be noisy mainly on large loads. Another indication that you have this problem is that the front of the washer doesn't stay on or won't go on.

The apron is the metal bracket that extends from one side of the washer case to the other holding the washer tub up. To repair this you must install a Cover and Front Apron Bracket Repair Kit part number WH49X10065 Order Here. for white color models and WH49X10066 Order Here for bisque color models. You will need a drill and a 1/8-inch bit. Instructions should come with the part. Also note that you will be replacing the top, which has the model/serial number tag. Don't forget to transfer the tag from the old top to the new top.

Last edited on Thu Oct 7th, 2010 05:32 am by Tronicsmasta



____________________
It is never a bad thing to leave it to the professionals. Inexperience can lead to more damage or risk of injury. You can always call A&E Factory Service (1-800-905-9505), Sears(1-800-469-4663), or local service man you can trust (servicemagic.com).