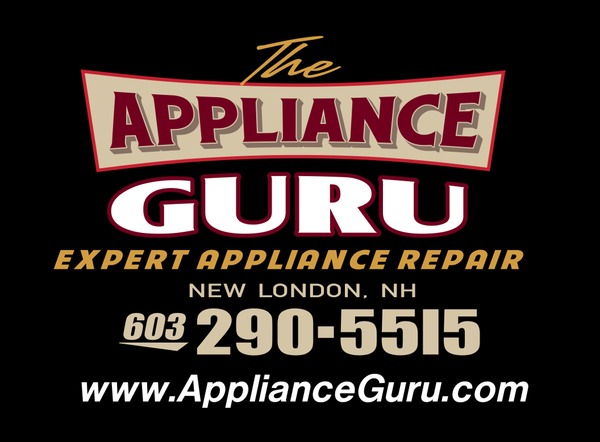 ➤ Fixed Right, Fixed Right Away!

➤ Honest, Dependable, Experienced


➤ All Repairs Guaranteed 110%
Watch The Appliance Guru in action at Appliantology.TV
We know that your time is important, and we know that you want your appliances fixed right, and fixed right away!  When you call The Appliance Guru, you will get a live human who can immediately work with you to schedule an appointment.  Our technician will get out to your home promptly, work professionally, and make sure that you're satisfied with the repair.
Our technician has nearly 20 years of experience in his field and regularly attends manufacturer training sessions. He will make sure that you know how much the repair costs before he does it so you can decide what's best for you, and most of the time he will be able to do your repair during the first trip.  Best of all, his work is guaranteed to fix the problem!
The Appliance Guru provides prompt, convenient appliance repair service in the following towns in New Hampshire: New London, Elkins, Wilmot, Andover, Springfield, Georges Mills, Sunapee, Mt. Sunapee, Newbury, Sutton, Warner, Grantham, and the Eastman Community.
We service all major appliance brands including…
And more!  
Why Choose Us?
- We service all major kitchen and laundry appliances.
- When you call for service at 603-290-5515, over 95% of the time you will not just get a live human on the phone, but one of the owners, so we can handle your questions, requests, or concerns promptly.
- We tell you how much it's going to cost before we do the work, so you can decide what's best for you.
- Our technician can almost always get out to your home within 48-hours of your call and we'll give you a two-hour window for his arrival so you're not waiting around all day.  He'll also give you a courtesy call before he arrives.
- Over 85% of the time, we'll complete the repair during the first trip to your home—parts, labor, everything.
- All parts and labor are guaranteed.
- Our technician is also our owner, so you will have the same person coming to your home for any repair.
- We want to build a relationship with our customers—we want you to like our service so much that you will recommend us to your friends and call on us again in the future!
Our Guarantee to You:  We only use new, factory-genuine, OEM parts in all our repairs-- no generics or after-market knockoffs.  What this means to you is that we guarantee electrical parts for 1 year and mechanical parts for 5 years.  If these parts fail within their warranty period, they will be replaced at no charge to you!  Furthermore, all our repairs are backed by our unmatched 110% guarantee: If, in the unlikely event that The Appliance Guru's work does not fix the problem, you will receive a 110% REFUND.   We stand behind our work 110% and we put our money where our mouth is! 
For more info about our service, please see our FAQ page.  
Or, use this nifty form and we'll reply ASAP:
Logo design by Dale Flewelling at Art Attack Designs.